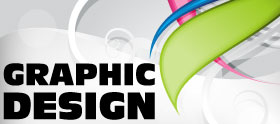 What is Graphic Design? Below is a compilation of short definitions of what AIGA and Wikipedia think graphic design is. For the full definition, follow the links.
Wikipedia: Graphic design is the process of communicating visually using typography and images to present information. Graphic design practice embraces a range of cognitive skills, aesthetics and crafts, including typography, visual arts and page layout. Like other forms of design, graphic design often refers to both the process (designing) by which the communication is created and the products (designs) which are generated.
AIGA (American Institute of Graphic Art) : Graphic design is a creative process that combines art and technology to communicate ideas. The designer works with a variety of communication tools in order to convey a message from a client to a particular audience. The main tools are image and typography.
I magine if the graphic designs used to create your corporate communications clearly expressed your brand message in a visually powerful way, wherever and however viewed. Over the last 21 years as a graphic design services company, Simon has been doing exactly that – creating compelling designs for hundreds of clients, local, nationwide and even international.
Skilled in all media, traditional and interactive – from print to photography to web to SEO, Simon is your single source for an integrated design strategy.
Print Design
A printed piece is a tangible design solution that stimulates a consumer and provokes them to form opinions and make purchasing decisions about your business, product or service. Printed material is an essential component of a company's marketing plan in making an impact, only if it is created effectively, consistently and targets the objective at hand.
DesignedBySimon.ca offers creative ideas that work for your business. Whether the job is as small as a brochure or as large as a total corporate identity package, we blend the culture of your organization, with informative copy and 'eye catching" imagery to develop collateral pieces that ignite viewers to take action.
Custom design print packages can include any of the following:
Logo Identity Design
Business Cards & Letterhead
Brochures, Mailers & Postcards
Annual Reports
Print Advertising
Packaging & Merchandising
Trade-show/Convention materials
Menus & Programs
Signs & Billboards
Catalogs & Magazine development
Sales & Media Kit design
Printing Solutions
Branding
Branding's power is its ability to influence behavior. Positive experiences associated with a defined brand are keys to the success of a company's products or services. Every visual communication decision must be made with brand recognition as the front runner. For it is through branding and consistency that company reputations are built.
Consistency is the most important word applied to corporate branding. Whether you initiate with a logo, expand into a print campaign, and soon venture into a web presence, all of the visual elements and goals regarding communicating your product or service need to remain "consistent". It's not just the same look and copy your customers are looking to see in your advertisements, it's establishing a stability and pillar of identity that your company stands on that builds the culture, staying power and direction that assure your customers you know who and what you are.
[+] View Our Portfolio